Aug 9-12 - Heading West -- (Dream Travel Trip Anywhere; Yukon-Alaska Road Trip)
Alaska and Back: Did The Guides Work? > What Actually Happened > ...Going TO The Arctic
Heading west, Aug. 9 - 12

Oops!

I didn't send any emails during these first days on the road! But I did take a lot of photos, as I passed through Chicago, Minneapolis, Fargo, and upper Montana before reaching Glacier Park.

I had visited Glacier Park many times before. Though I had previously stayed at the wonderfully impressive Glacier Park Lodge and also at the uniquely charming Lake McDonald Lodge, I had never overnighted at the Many Glaciers Lodge.

This time I did. Many Glaciers Lodge may not be as elegant as the other two. But it more than makes up for that with its unsurpassed Alpine setting, in many respects a vista more spectacular than Lake Louise.

Nor had I ever been treated on my earlier Glacier Park visits to such profound weather swings on the Park's spectacular Going to the Sun Highway.

A narrow mountain road not to be driven by the faint-hearted, the Going To The Sun Highway's summit, at the Logan Pass NPS Visitor Center, puts you at the base of a hiking trail that will take you up a mountainside of wildflowers, over a rocky crest, and alongside a beautiful glacier-fed lake.

Yes, there is that other much longer hiking trail, on the other side of the road, whose first mile or so is a generously wide 18-inch ledge carved out of an almost

To see pictures, click LARGE arrow BELOW the map-3rd icon from left. For BIGGER images, click white circle (1st icon). For more info, see menu: Begin Here/User's Guide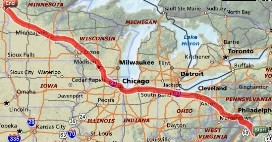 The route ... click below to start the slide show ...





vertical mountain-side of pure rock. There is a chain to hold on to fastened to the solid rock wall for the less daring among us.

I like the wildflowers trail. You can spot grizzlies, too, which are best seen from afar. Plus all the mountain goats you've ever wanted to see, and up close, too.