Aug 13 - From Lake Louise To Prince George in Northern British Columbia -- (Dream Travel Trip Anywhere; Yukon-Alaska Road Trip)
Alaska and Back: Did The Guides Work? > What Actually Happened > ...Going TO The Arctic
August 13, 2006...
at Lake Louise

Hi guys!

It's 7:05 am, Lake Louise (Mountain Daylight) Time!

I'm writing this email on a hotel computer, so I can't attach pictures. If I did, you all would be SO envious of where I've been and where I'm at.

I've had SO much pleasure on this trip, except for the first day, when I drove 22 hours. All flat, all boring. Having the iPod was great; made all the difference in the world. The hike at Logan Pass (Glacier Park) was unforgetable, and the jaw-dropping scenery in Glacier itself and on the route from there through the Canadian Rockies to here was just plain totally awesome. I've got lots of pictures, and sooner or later I'll find a wireless hookup and send you a few.

I am sleeping great if not long, eating real well at dinnertime (this hotel - Deer Lodge - has an award-winning cuisine and a la carte prices to match, but I'm doin' it anyway), and last night spent two hours (two hours, folks count 'em, two hours) in an outdoor hot-tub on the hotel roof where we could all look west to the glacier above the lake or straight up to the stars! Oh my, oh my!


To see pictures, click LARGE arrow BELOW the map-3rd icon from left. For BIGGER images, click white circle (1st icon). For more info, see menu: Begin Here/User's Guide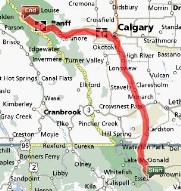 The route ... click below to start the slide show ...





Have a wonderful Sunday. Send any reply by email to my address. Keep text messages to the cell phone short, since only the first 100 or so characters get through.

Bye for now ... Cliff