Aug 14 - In Northern British Columbia On The Way To Prince George, BC -- (Dream Travel Trip Anywhere; Yukon-Alaska Road Trip)
Alaska and Back: Did The Guides Work? > What Actually Happened > ...Going TO The Arctic
August 14, 2006...in
Northern British Columbia

August 14, 2006

Hi Everyone:

First, thank you all for your kind messages along the way. I have had so much pleasure on this trip.

I miss being close to you all, for you are, above all, my dearest friends. But I have had such pleasure seeing all that is so, so beautiful about this country, this continent – after all, I am in Canada now.

As a matter of fact, I am in British Columbia, in a town called McBride, on Highway 16, about two hours from Eric's.

The drive today has been spectacular, going north from Lake Louise on a road called the Icefields Highway – that because it skirts glacier after glacier.

The last of those glaciers (if you're headed north) is the Columbia Icefields – staggering in its beauty and massiveness. I was able to take short hikes at various turnoffs – hardly breaking speed records today, but having a blast.

I've stopped here in McBride for a coffee break and to gas up. I'm at a converted railroad station – now it's a coffeehouse. McBride is NOT big – one main street. That a great latte can be had here is stupendous – but it's been this way all across the country, so long as you stop at the one-off cafes with the hand painted signs instead of the fast food places.

I hope all is well, and that it's not too hot there (here: 65 degrees F).

To see pictures, click LARGE arrow BELOW the map-3rd icon from left. For BIGGER images, click white circle (1st icon). For more info, see menu: Begin Here/User's Guide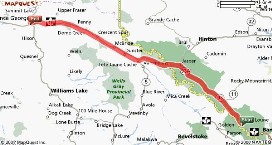 The route ... click below to start the slide show ...





Well, I'll stop writing now, and when I can send this email, I'll attach a picture or two, so you'll see a tiny bit of the grandeur unfolding each day before my eyes.

Regards,

Cliff

PS: There was a handwritten sign on the front door of the McBride railroad Station café, which reads: "Nuts being served here today." How the heck did they know I was coming?